Delivery Info - Check your Zone and Minimum before selecting Delivery at Checkout
$4 same-night local delivery ($30, $60 minimum depending on proximity)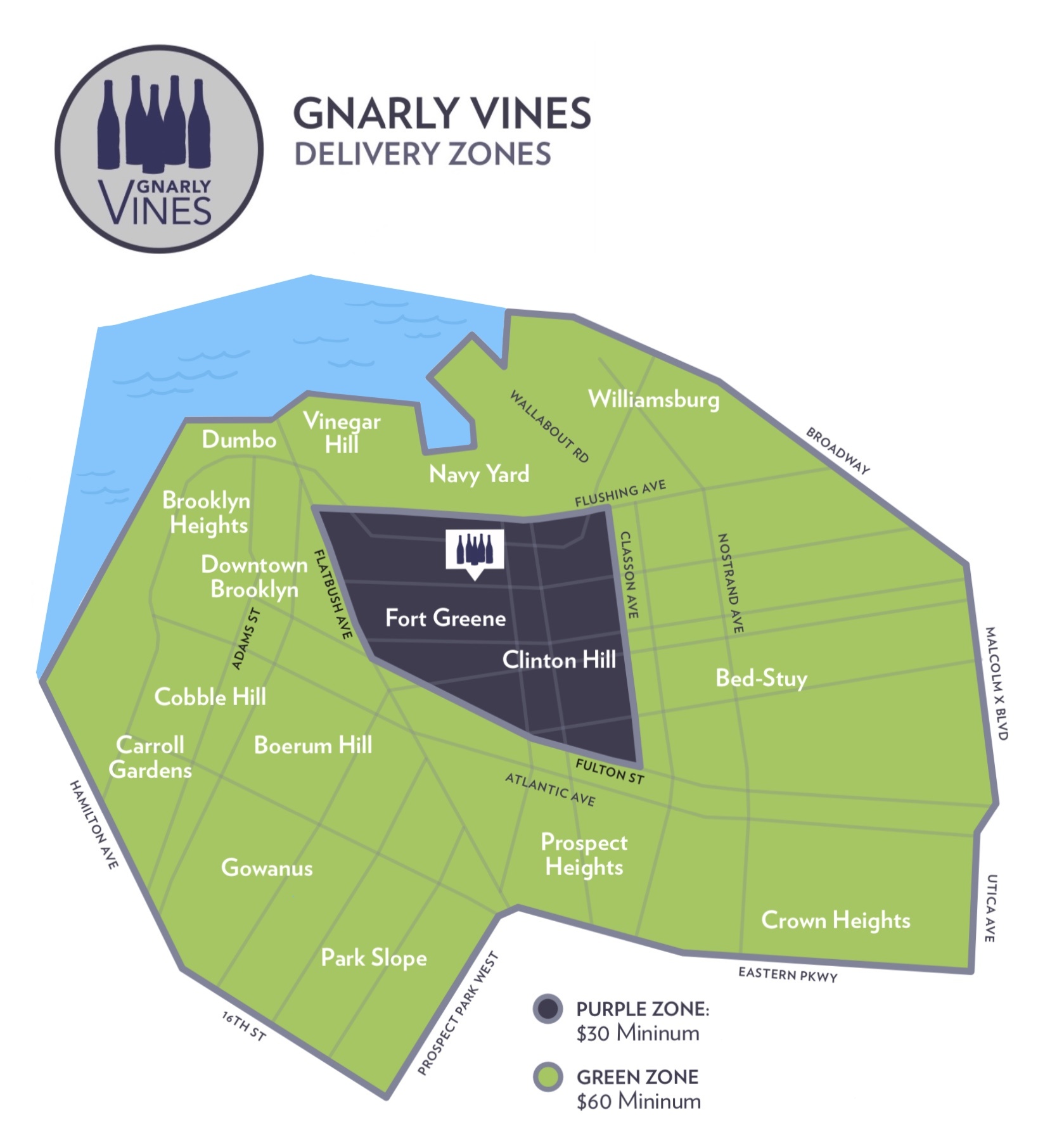 Purple Zone: $30 minimum
Green Zone: $60 minimum
Please place your order 1 hour before closing for same-night delivery.
Beyond our Zones: Brooklyn (outside the Zones), Manhattan, Queens: $150 minimum. Delivery date and time to be determined at a mutually agreed upon date and time. If we have to ship via FedEx, we can quote you the charges or the website will do it automatically.
Lastly, please remember our hard-working delivery folks – tipping is customary and appreciated!
Online Orders
An automated confirmation e-mail will be sent summarizing your purchases, but it is not final until we confirm and apply shipping charges, sales tax, and discounts if applicable.
A second, manual e-mail will follow shortly (during business hours) to notify you of any changes to your order as well as to coordinate delivery times.  While we make every effort to show accurate product listings on our website, Gnarly Vines is not responsible for typographical and pricing errors or omissions.
For additional questions, please send us an e-mail at [email protected].
Shipping
For shipping outside NY City: There is a $50 minimum. We primarily use FedEx Ground Service unless otherwise stated or requested. Please note that preliminary shipping quotes are estimated. Actual costs will be confirmed with you when your order is placed. You will also be asked to reply via email to accept our interstate shipping terms and conditions as follows:
All alcoholic beverages sold in New York State are subject to New York State sales tax and title passes to the buyer in New York.
We make no representation to the legal rights of anyone to ship or import wines in to any state outside of New York.  The buyer is solely responsible for shipment of alcoholic beverage products.  By placing and confirming an order, you authorize Gnarly Vines to act on your behalf to engage a common carrier to deliver your order.
Alcoholic Beverages may be sold and delivered only to persons who are at least 21 years old.  In placing your order, you represent to us that you are at least 21 years old and that the person to whom you are directing delivery is at least 21 years old.
When your alcoholic beverages are delivered, the person receiving delivery will be required to show ID proving that they are at least 21 years old.